Springwood Studio Timetable
COVID-19 is still with us so we do need to take extra care of each other.
We encourage you to bring your own yoga gear, clean your hands regularly, keep the 1.5 meter distance away from one another and if you are feeling unwell please stay home.
We have a SA Government COVID-19 Safe Plan in place and are committed to following this plan to ensure a COVID safe environment at the Studio.
The full Calendar of WEEKLY Classes and SPECIAL Events is also available at a glance from here. (Note: Weekly view is most comfortable:)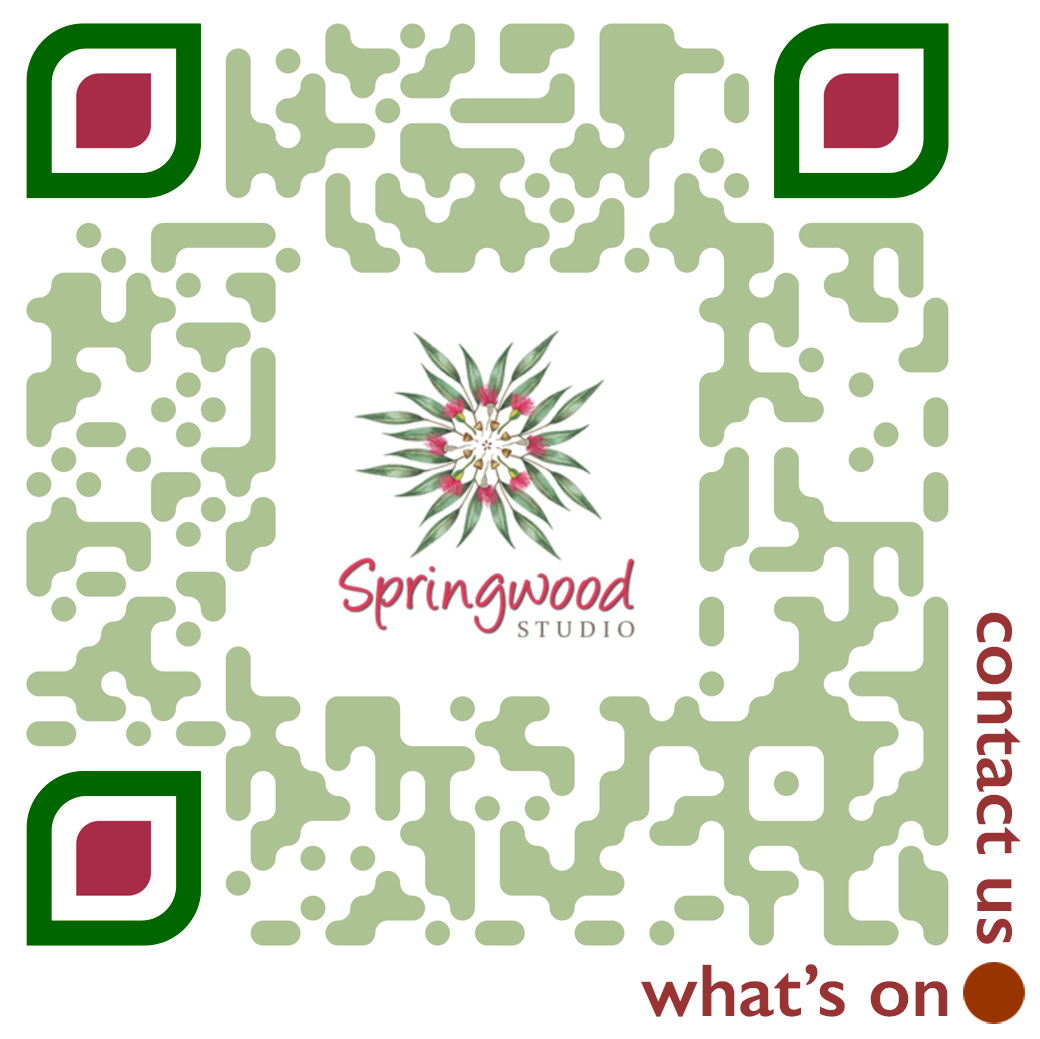 Or you can scan the QR Code for quick access on your phone.
WEEKLY CLASSES at SPRINGWOOD
Monday
6pm - 7:30pm
Kundalini Yoga with Kaylene / Adi Amrita
0401 921 073 or

This email address is being protected from spambots. You need JavaScript enabled to view it.
Wednesday
10am - 10am
Mindfulness Practices with Pierre
Ph: 0422 90 55 33 - or Online here
7pm - 9pm

Meditation and Study Group of Dr Joe Dispenzas work
Facilitated by Sandra 0417 392 613 - Pre-requisites apply -
Thursday
10.30am -11.45am
Kundalini Yoga with Tina 0400 286 000
Thursday Afternoons
Traditional Ayurvedic Treatments for Women
Contact: This email address is being protected from spambots. You need JavaScript enabled to view it.
6pm -7pm
Kundalini Yoga with Hari Nam Simran / Alex 0429 388 212
Friday
6.30am – 7.30am
Himalayan Kundalini Yoga
Contact Angela: 0439 394 449 or This email address is being protected from spambots. You need JavaScript enabled to view it.
10am – 11am
Womens Circle Meditation
Booking Essential
Contact India 0400 401 028 or This email address is being protected from spambots. You need JavaScript enabled to view it.c
Counselling Sessions
Booking Essential
Contact India 0400 401 028 or go to www.faithhopeandhealing.com.au
Saturday
9am – 10.15am
Hatha Yoga Flow
Contact Anna: This email address is being protected from spambots. You need JavaScript enabled to view it. or 0448 060 776

10.30am - 11.50am
Kundalini Yoga with Daljot | Kathryn
Contact Kathryn: 0488 253 180 or This email address is being protected from spambots. You need JavaScript enabled to view it.
Sunday
Sadhana Every Sunday Alternating Between:
5am - 7.30am
Community Sadhana
Contact Tina 0400 286 000
or
6am - 7.30am
Sattva Yoga Sadhana Himalayan Kundalini
Contact Angela 0439 394 449
---
Pricing & Bookings
Please contact the instructors of the class for bookings and for prices.
*Sadhana by Donation*
See our Events page for more activities