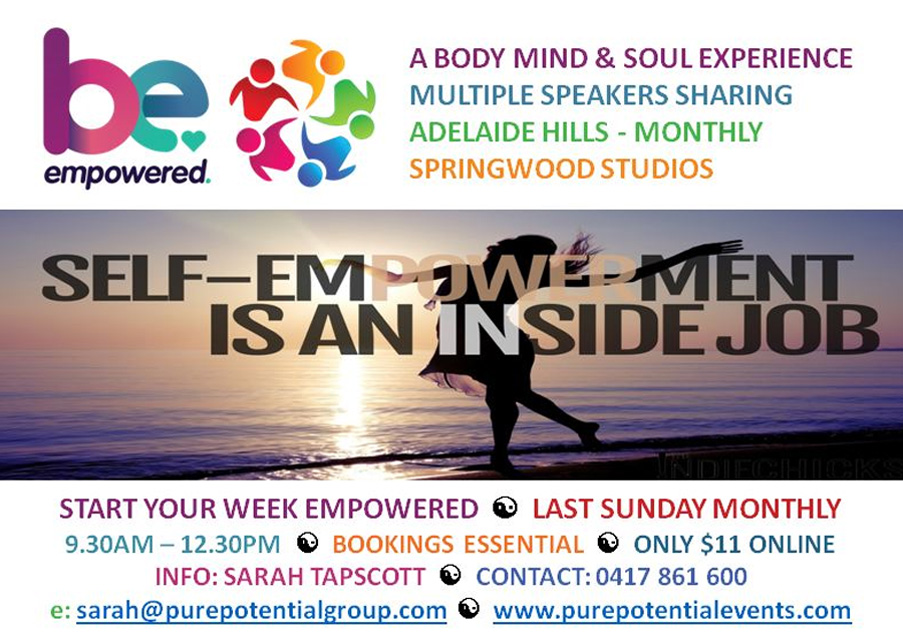 9.30am – 12.30pm
Sunday 27 October
BE Empowered talks are coming to Springwood Studio
A Body, Mind and Soul Experience on the last Sunday of every month.
Learn & Experience More in your Life – Be Empowered to make the difference.
Every month we will be presenting two different speakers from all modalities who will be sharing how to awaken to your true self so that you can live your life on purpose.
Be with like minded people who are on a quest to like a more Empowered and authentic life.
We will be sharing tips and tools to empower you and your mind, body and soul so that you can live your best life, be fully present and open to your true potential.
We look forward to sharing these wonderful heart-centred experiences with you.
Cost is $11 and if you would like to share in our morning tea we would appreciate if you could bring a plate of something small to share.
Bookings are essential online www.purepotentialevents.com
Learn more about Sarah here.