Testimonials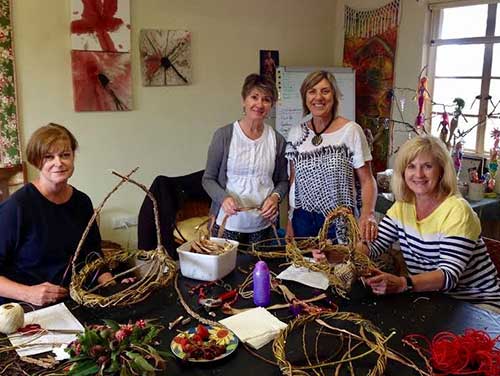 More than a craft group
written by Julie
"Readers may assume that this group began with a bunch of women who were all keen and talented crafts people who wanted an outlet for their work.
You couldn't be more wrong!
Yes, some women were talented with their hands.
Some women had never made anything before -- and weren't very confident about what they could do.
Most women only knew one other person in the group.
This was the beginning of an amazing friendship/working group who, years later, still meet weekly. Of a group whose members are innovative, inspiring, encouraging but more importantly kind, thoughtful, supportive and helpful.
We make things -- sewing, beading, jewellery, knitting, crocheting, painting, embroidery, felting, textiles, mosaics, old crafts and new crafts -- the list is endless. We try everything we can. There are group projects and individual projects. We go on field trips and take classes.
Some ideas are great successes, others...?
But we are more than just a craft group!
Fundraising and supporting community groups is an important part of our ethos. We like to "put back" into the community and we feel we have the time and resources to do this in a variety of ways.
As individuals we have all been through the downsides of life and we like to offer our group and sessions as a positive respite for a few hours. Sometimes it is refreshing to just sit, listen and watch the others at work!"
---
Nurturing inner calm
written by yoga student Kathy Kitt
"I have been a regular participant in Tina Spencer's Kundalini Yoga Sessions for nearly six years.
The new Springwood Studio overlooks the picturesque Adelaide Hills with spectacular views forever changing with the seasons. Tina's soothing voice and careful instructions help promote an inner calm.
Over time I have gained a deeper awareness of my body, strengthened and improved my mental and physical well-being whilst also improving my flexibility and core-strength. Her depth of knowledge and understanding of Kundalini enables Tina to vary each session while at the same time always maintaining an awareness of her student's needs. Training with a different sequence of postures each week provides a holistic approach to mind and body stress relief and relaxation.
I always leave the class feeling refreshed and calm ready to deal with everyday demands."